Tension spring stainless ø 2,80x27,20x154,00 mm-TR2060
€12.48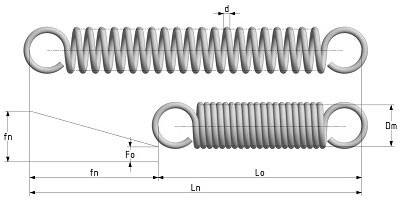 Product specifications
| | |
| --- | --- |
| SKU | TR2060 |
| Stock | In Stock |
| d | 2.80 |
| Dm | 27.20 |
| Lo | 154.00 |
| fn | 219.00 |
| Fn | 167.00 |
| R | 0.65 |
| Material | Stainless steel |
1kg = 9.80665 Newton
1 N = 0.10197 kg
Order TR2060
Tension spring stainless ø 2,80x27,20x154,00 mm
Tier prices
From 5 pieces

€10.61

(€10.61 p/st.)

p/p.
In Stock
Lowest price guarantee
Delivery within 3-8 Working days
More than 25 years of technical craftsmanship
Product information
De TR2060 is een RVS 302 trekveer van Alcomex. Deze trekveer heeft een draaddikte (d) van 2,8mm. De buitendiameter (Du) is 30mm en de TR2060 heeft een ongespannen lengte (Lo) van 154,00mm. U kunt deze trekveer direct online bestellen in onze webshop. De TR2060 is gemaakt van RVS 302 volgens EN 10270-3-SH, materiaalnummer 1.4310. De veeruiteinden zijn: Duitse open ogen, standaard positie. Neem contact met ons op voor andere posities of oogvormen. Grote aantallen kunnen direct uit voorraad geleverd worden. Onze trekveren worden geproduceerd met toleranties volgens DIN 2097-2 en zijn standaard rechts gewikkeld.