Tension spring stainless ø 2,20x8,80x67,80 mm-TR1740
€9.12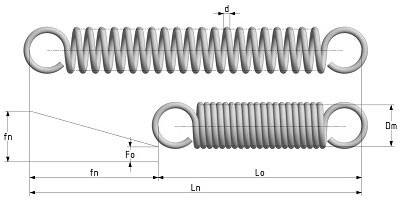 Product specifications
| | |
| --- | --- |
| SKU | TR1740 |
| Stock | Not in stock |
| d | 2.20 |
| Dm | 8.80 |
| Lo | 67.80 |
| fn | 15.80 |
| Fn | 216.00 |
| R | 11.66 |
| Material | Stainless steel |
1kg = 9.80665 Newton
1 N = 0.10197 kg
Order TR1740
Tension spring stainless ø 2,20x8,80x67,80 mm
Tier prices
0 pieces available. if you order more springs, shipping will take place as soon as shipment preparation is complete (3 weeks).
Lowest price guarantee
Delivery within 3-8 Working days
More than 25 years of technical craftsmanship
Product information
Stainless springsteel wire in accordance with EN-10270-3-SH, alloy number 1.4310. Tolerances in accordance with DIN 2097-2.